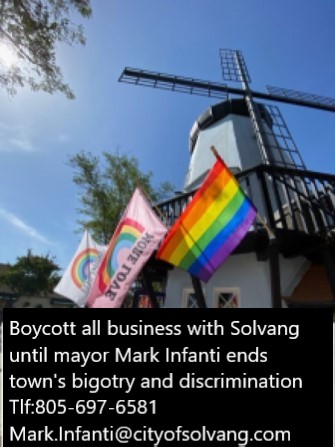 Photo courtesy of Santa Ynez Valley Pride
Each June, the LGBQT+ world community celebrates natural gender diversity and sexual identification as Pride Month. Its roots go back to June 28, 1969, when the NYPD stormed a Greenwich Village, NYC, gay club, Stonewall Inn, on the pretense of liquor license violations, employed for decades to prevent gay assemblies. The NYPD committed battery on Stonewall Inn's patrons and employees as they brutally yanked them out. This resulted in six days of intense protests against the police action outside the bar and at a nearby park, resulting in further skirmishes with the NYPD.
Perhaps first understood by many as A Polysexual, Polygendered World by Bruce Bagemihl, PhD, a Canadian biologist and linguist, in his book, Biological Exuberance, and more scientifically defined by Columbia University professor of medicine, William Byne, in his peer-reviewed Journal of the American Medical Association (JAMA) paper, Biological Exuberance: Animal Homosexuality and Natural Diversity. Throughout the entire spectrum of the animal kingdom, within which human beings are scientifically classified, researchers today are finding ever more diversity in sexual behaviors, including lifetime, same sex pairings. For example, among the black swans of Australia, about 25% of the population engage in lifelong male-male pairings. Generally through one of the males briefly pairing with a female, or sometimes chasing away a heterosexual pair from the egg-laden nest, the males take over the brooding -- incubating -- of the eggs and then raising their chicks. These males been shown to have a far higher success rate, upwards of 80% to the 30% of heterosexual parents in raising their young since they can better defend more advantageous nesting territories. Upon reaching sexual maturity, their young exhibit no significant variation in sexual behaviors than can be found in the general population. This is also true of many other animal species, including Denmark's national bird, the mute swan, from a Hans Christian Andersen story. Clicking on HC Andersen's "The Ugly Duckling" first illustration, in 1843, by Vilhelm Pedersen below takes you to to a 2 minute video by the Nastural History Museum that graphically explains the science of it in very simple terms.

130 miles north of LA – a 2 hour drive -- you'll find the town of Solvang, with a 2021 population of 6,048. It has long been nicknamed The Danish Capital of America, not only because it was founded in 1911 by 3 Danish immigrants who purchased pristine growing land, built an irrigation system, and much more, but because today many of its streets are dotted with houses and shops that have an intentional architecture very reminiscent to a traditional, quaint little Danish village, as well as attractions reminiscent to the Danish capitol, Copenhagen. And that draws many tourists, especially those with a Danish background. Over the years, the town has, with increasingly conservative homophobic protesting against it, allowed Santa Ynez Valley Pride to colorfully express the above describred natural diversity.
Then in July, 2022, Avi Stone Williams and Joshua Jerome Eligino filmed themselves burning a Pride flag, allegedly one of two stolen from a Solvang area home and a church, which was uploaded into social media. The two were charged by the Santa Barbara DA's office with misdemeanor theft and hate crimes, under California and US constitutional civil rights protections.
During a heated February 28, 2023 Solvang town meeting, the city council voted 3 to 2 against Santa Ynez Valley Pride to renew their right to professionally paint a town pedestrian street crossing the rainbow colors and fly Pride flags from street light poles. In an Op-Ed by Santa Barbara's EdHat News, Jess Silverstein described how " [s]everal homophobes...[at the meeting] expressed their clear disdain for LGBTQ+ people ruining their WASPy version of Danish-America." Further, Siversteen referenced "...two different news articles about the Solvang City Council voting against a celebration of pride month for the LGBTQ+ community . One article was by the Santa Ynez Valley News, and the other by The Independent where [city council member Robert] Clarke said he expects to be called a bigot and subsequently rambled incoherent nonsense about gay people...
"Clarke said he just couldn't wrap his head around the idea that banners hanging from city streetlights would make Solvang's LGBTQ+ residents feel any better about themselves. And how could he? First, he's an idiot. Second, he's incapable of understanding how anyone different than himself might feel. He's in the majority. As a (presumably) straight, white, male, he's never had to worry about being denied services because of the color of his skin, not being paid an equal wage, or not able to marry who he loves. So why should he care about anyone else that differs from him? Clearly this position of being a sworn public servant meant to represent everyone won't change his stance, making him the worst kind of idiot: one that is aware of his shortcomings but will do absolutely nothing to learn, grow, or attempt to understand how others may feel or experience life. Defiant ignorance."
In response to the several year long civil rights pressures felt by the Santa Ynez Valley Pride, Copenhagen Pride has promised to replace every flag stolen or burned in Solvang by homophobic civil rights violators.
Copehagen Pride spokesperson, Lars Henriksen, stated "[We are] stunned to hear about the opposition to Santa Ynez Valley Pride and smaller Pride events in Solvang, including the burning of rainbow flags. We brought WorldPride to Copenhagen precisely because we are a beacon for LGBTI+ equality and acceptance globally and so the opposition to Prides in Solvang is far from reflecting the values we cherish in Denmark and Copenhagen. We had to ask our Lord Mayor to write to Mayor Infanti and we sincerely hope he hears her friendly message."
Copenhagen Social-democratic Lord Mayor Sophie Hæstorp Andersen wrote: "In the spirit of friendship between our cities, I urge you to give Santa Ynez Valley Pride and your local LGBTI+ community the full support of your City Council, in the same way that the Municipality of Copenhagen wholeheartedly supports Copenhagen Pride for the benefit of all Copenhageners, and to show the world that respect and acceptance are vital elements in a modern, welcoming society."

FULL COPY OF HER LETTER WITH SIGNATURE AND COPENHAGEN SEAL
The story desn't quite end there. In recent years, developers and enterpreneurs, keen on capitalizing, revitalizing is the catch phase, Solvang's proximity to scenic California beaches, vineyards and wildernesses, as well as its historic Danish tourist traffic, would like to see an end to what they have termed as the Danish mafia.
In a September 24, 2022, article by Andrew Pridgen of the San Francisco publication, SF Gate, he writes, "Resistance to change may be what's prohibiting the hamlet of more than 6,000 residents, in the heart of the Santa Ynez Valley, from becoming the next must-visit destination in California. One factor: an older guard that continues to rely on the town's [Danish] traditions to stay afloat."
In an interview by Pridgen with Rene Kaerskov, wealthy owner of a nearby vineyard by the Danish Mill Bakery in Solvang, which he also owns, he explained, "We should attract an audience that will stay here in the hotels, eat a couple great meals and enjoy a higher spending experience... I prefer the Carmel audience. They have eight restaurants in the Michelin Guide. They have Tiffany & Company... Solvang, however, is in conflict."
That view is echoed by other entrepreneurs who, to SF Gate, have stated they would like to capitalize on Solvang, but can't due to what they term as "the old-guard [Danish] gentry."
"It's been struggle city," explained Michael Cobb, "...a Disney alum and owner of High Roller Tiki Lounge in the town's center... The town isn't helping in any way to change... All they seem to care about is their bakeries. We call it the Danish Mafia and it's true. It's well known that's what's happening. A small group of people made decisions for everyone — there's a lot of corruption going on, it was happening before I got involved. Now I see it all."
Does this underlying conflict play a role in the city council's decision to not reniew Santa Ynez Valley Pride's application to colorfully express the liberal, natural gender diversity and sexual identification?
A critical, peer-reviewed socioeconomic analysis of Solvang, titled, Global capitalism guided by desire- Solvang, CA, as a "real" place, was published by the Journal of Rural Studies in 2021.
In his Conclusion, author Jørn A. Cruickshank, professor of Global Development and Planning at the University of Agder in Norway, wrote: "The property of Solvang is upheld by a motive force that produces a Danish-style village area, either as a "necessary evil" (CC) for the local economy or as an expression of nostalgia and romanticism, a desire among tourists and residents to celebrate the memory of an ancient Danish or northern-European Old-World culture. This desire guides commodification and the emerging qualities of Solvang and fends off competing forces, producing something more than an average American rural settlement surrounding a Danish museum in the middle. The task of the critical geographer is not to contribute to a fight against capitalist commodification, in an attempt to return to an illusory past, but she should instead be aware of what works and what threatens the place."
In socio-psychology, commodification "describes the process by which something without an economic value gains economic value that can replace other social values. "
Continuing with Cruickshank's Conclusion, "[t]he main contribution to critical geography here is not that it should go looking for what exists and what works, to conserve it. The suggestion is that instead of looking for what is wrong or describing an alternative world, the critical geographer should seek knowledge about existing desires that have an interest in their social milieu and want to make it even better. This is the more positive and appropriate ground for political engagement."
The hypothetical point here, in celebrating "...the memory of an ancient Danish... culture...[Jørn A. Cruickshank, above]" could be that homophobia may persist in Solvang due to attempting to conserve a generations' old Danish mindset, one which existed throughout America equally, considering the June 28, 1969 police raid on a gay bar in New York City, the very reason Pride is celebrated in June. And Copenhagen Lord Mayor's point in her letter is for that old mentality to catch up with the reality of today's Denmark.
During the heated debate on February 28 at city hall, 5th generation Solvang resident Jesse Condit Bengoa said, "First it was a Pride parade through downtown Solvang this past June, then the drag show idea in December. Next it was the Valentine's Day social media post featuring a gay couple, and now rainbow sidewalks. The city ought to reject this 'woke campaign,' maintain its Danish heritage, and 'stay true to who and what we are.' Mayor Mark Infanti also voted to deny the Pride application, but on the grounds that a single business, a toy store, would capitalize on the affair. In an interesting play on words, he is married to Gay, a natural woman as natural as what Santa Ynez Valley Pride wishes to celebrate in Solvang.
Copenhagen Lord Mayor Sophie Hæstorp Andersen concluded her letter to Mayor Infanti by stating: "Echoing the theme of Copenhagen Pride 2023, we should #ComeTogether for love, equality and human rights, in Copenhagen and in Solvang."