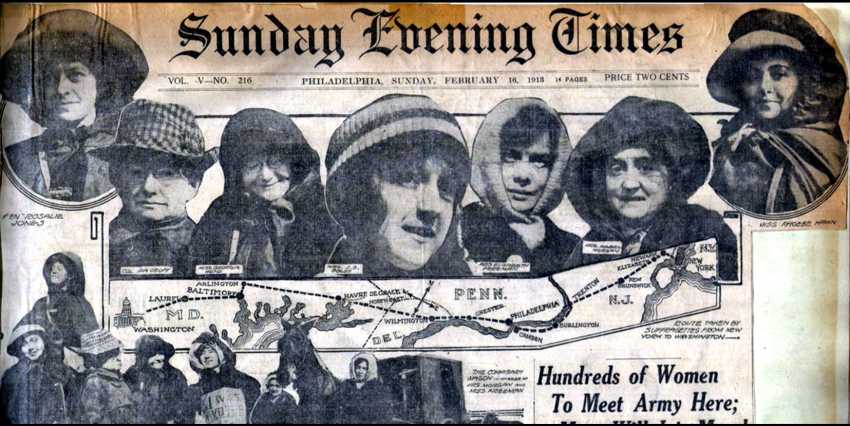 Abigail Adams, in
ladylike tones
Implored them to give
her a break.
That was naught to
shake up their bones;
It fell on ears not
awake.
Harriet Tubman and
Sojourner Truth,
With nothing to gain
by petition,
Resorted to acts that
were then quite uncouth –
They actively sought abolition!
Florence Nightingale,
a world away,
Bloodied her skirts
in Crimean battle.
Clara Barton, on our
sad day,
Did the same, as we freed
human chattel.
Seneca Falls, now
more Abigail-formal,
Attempted to set
things in stone.
This was a start, by making
it choral;
But those gals were
still all alone.
That fact was proven
at Civil War's end,
When Black men got
the first vote.
White ladies, their
fine garments could rend –
White men had sent
them a note!
With ankle-length
skirts still close to the floor,
A half-century more
did they struggle.
Just when they felt
they could take no more,
Did they the
Constitution juggle.
Smooth-sailing, they
thought, as up went the skirts;
They'd come a long
way, baby!
The voting thing's
slow and issues in spurts –
Not now; tomorrow,
yes – maybe...
WWII's auxiliaries,
here and there,
Showed something's
better than nothing.
After Rosie the
Riveter and her snooded hair:
Just look, dear, the
house needs a dusting.
A little longer,
baby, quickly they found –
Now we can smoke with
the men!
But, that did not
make the body sound –
Wallowing in the same
pigpen.
Civil Rights
happened; Viet Nam began;
The wheel began to
creak.
Gloria Steinem, Betty
Friedan –
Gals were now a mystique!
No longer Ms. Nice
Guy – brassieres in the fire!
They had waited long
enough –
Out in the streets,
now, up with your ire –
Everyone get off your
duff!
Gloria did Playboy –
It was like saying
Nigger.
With opposition, it's
okay to toy –
It just makes your
issue bigger.
Local elections and
governors, too –
The field was really
broadening.
Reps and solons were
thrown in the stew –
The wheel began
uncloddening.
Bella Abzug and
Shirley Chisholm
Said, Come on girls;
let's go higher;
Constitutionally,
there's no sexism;
It matters not one's
attire!
Geraldine Ferraro
tried for Veep, and lost.
They played games of
sex and ethnicity.
Sam was on trial; we
all paid the cost
In the worldwide
publicity.
Now, up-steps
Hillary, all primed to go –
Barack who – how dare
he!
Him I will pillory;
this is my show –
He did – my word –
glory be!
They made a deal afterwards;
She would be next.
But, like some
chicken birds,
She was quartered,
drawn and hexed.
Thus twice denied,
Joined with other
causes human,
In the streets she
has cried:
Fool me once (like
George W. Bush,
The words may
scramble by brain),
Enjoy yourself –
that's your last push –
But, you will never
fool me again!
Forged by time and
circumstance,
Be she virgin; be she
whore,
Now she proclaims at
every chance: