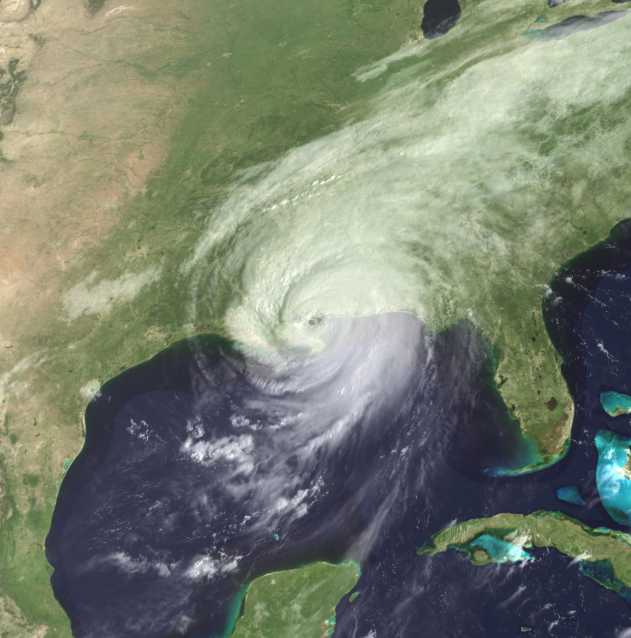 Even from her gentle birthplace in the Lesser Antilles, Katrina has her eye set upon "The Big Easy."
The warm waters of the Caribbean combine with her nascent breezes until they form a subtle, adagio pas de deux.
As the dance goes on, they become one, and begin to twirl and twirl.
Feeding upon itself, the spinning ballet becomes faster and faster.
In short order, they are a vortex of increasing size and energy.
Then, the all-encompassing funnel begins to move.
Katrina knows that her journey has begun.
While the silent eye slowly creeps northward, Katrina is completely unaware of the devastating forces being built into a fury beyond the serenity of its wall.
As she wends her way through the hapless islands of the Greater Antilles, Katrina's inner vista increases.
She is delighted with sights along the voyage, and completely unaware of the devastation being wrought by her exterior hell-sent winds.
So great is her excitement to experience the delights of Le Vieux Carré, that she almost mistakes a brief interlude over a jutting peninsula to be her desired destination.
Upon entering the even warmer waters of the expansive Gulf, her excitement becomes so great that, unknowingly, she increases the strength of her encircling, protective escort to its maximum intensity.
With the Mississippi Delta now clearly within her sight, Katrina seems to hear revelry and chanting: Laissez le bon temps roulé.
But now, as she approaches the shore, Katrina is confused; she does not recognize the upturned vessels and dismantled land structures, and because of this, she corrects her course slightly toward the east.
Drastically weakened, Katrina now begins her immutable dénouement northward.
Noting the widening Mississippi to the west, she now knows that her fated encounter with the site of the vaunted Mardi Gras was only partially realized.
As the absence of the nurturing, balmy seas begins to enervate her protective wall and dissipate its raging winds, Katrina now hears an oddly nostalgic strain, just above a whisper: "Do you know what it means to miss New Orleans..."