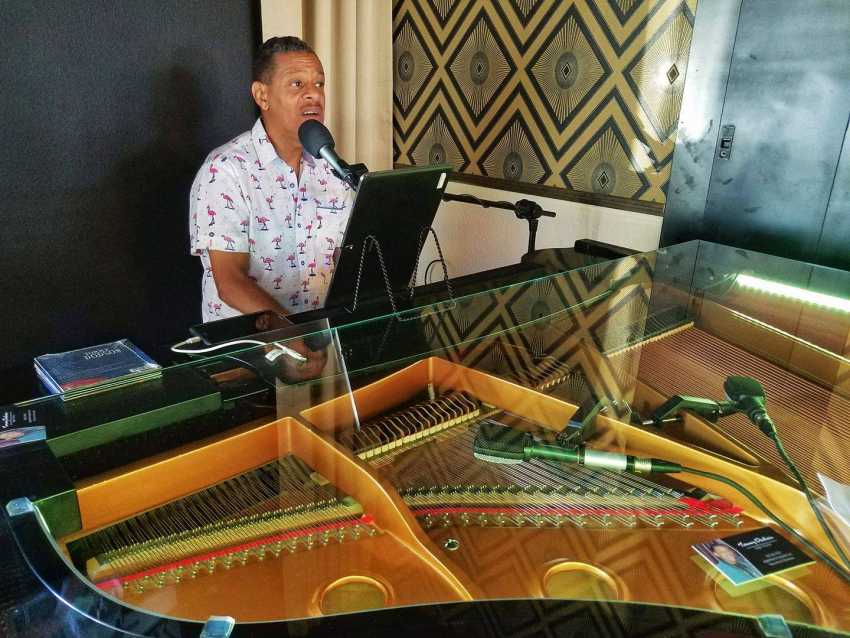 Still in venue-change mood at Stacey's Piano Bar in Palm Springs, Tommy Dodson sings and plays the title song from our first original stage musical, "Playing the Game." (See link below)
Although we still stand by the great variety and competitive quality of the music, dialog and lyrics of Playing the Game, subsequently it dawned upon us that that first venture had been a bit too ambitious with regard to the size of the work. Currently, we are inviting producers of any stripe to tackle the staging of this musical.
The cast of characters consists of about eight or nine principal parts.
The geography goes from Mid-West America, to Manhattan, to Puerto Rico, and back to NYC. It includes inter-ethnic and inter-sexual relationships. Religion itself is a main character. It fuels a lot of the action and affects many lives.
Here are the lyrics:
PLAYING THE GAME
"Playing the game" is a novel idea;
In an instant, it solves all our woes.
It makes us sincere and shows that we care;
So, who cares if it's only a pose?
"Playing the game's" a sophisticate's scheme--
Pulls the wool over bold, prying eyes.
It opens up doors
And frees up dance floors,
Gives entrée to society's lies.
So, we thought we'd play the game--
Yes, I need you, and you need me;
But, what about the penalty?
We build up blocks; they spell out love;
The doll's house beckons us to enter.
With Raggedy Ann and Andy, too,
We head for lands full of adventure.
The swings and slides and tall monkey bars
All tend to make it seem real,
Like rings and rides in stretch-limo cars
And hearing wedding bells peal.
So, we thought we'd play the game.
Yes, you need me and I need you--
But, what, when we are more than two?
The blocks fall down and love is gone;
The doll's house cards have gone a-scatter.
Poor Raggedy Ann and Andy, too—
Their clothes, now, even more a-tatter..