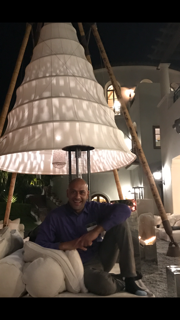 Texas-born Peter Ruiz is a friend who lives in Oakland, California. He is six feet four and – with a thumb in the eye to his receding hairline – he is purposely and fashionably billiard-ball bald. Peter's birth name is, "Pedro," redounding to his Mexican mother. His Spanish with her is as comfortable as the English of his African American father. Peter Ruiz is a self-contracting events coordinator, under the slogan, "Leave it to Peter" (my contribution). His clients are Silicon Valley-scale and similar. They keep him continually hopping all over the country.
I first met the pate-hirsute Peter a few decades ago, at a function in the home of my late brother Dr. Richard A. Long. He was with the Atlanta-based Coca-Cola Company, in public relations. The events he arranged usually included notables in showbiz or sports. When he was not hosting for the company, the indefatigable Peter merely shifted the, "Movable Feast" to his home. I recently told him that Ernest Hemingway must have had him in mind when he penned that early 20th century novel. I would see Peter again at other functions in Atlanta, where he was still irrepressibly and literally helping the Champagne flow.
I next saw Peter in San Diego. He was accompanying San Diego native Joanne Haberek from Atlanta to Oakland, where she had been reassigned to a nearby Army post. Later, when I was in residence at the Veterans
Administration's blind rehabilitation center in Silicon Valley. Joanne and Peter would come by and visit. Sometime we would go to dinner in Palo Alto; once, with another friend of Joanne's, we did an overnight visit to Monterey Bay. One Christmas, with Joanne festively outfitted, they showed up at the blind center with a beg full of goodies for everyone in my unit. Not knowing the rules, it caused quite a flurry when one of the minders noted that all the bags contained a bottle of wine! All of the grape had to be expropriated, much to the chagrin of Santa.
Peter's extended stay in Oakland/San Francisco endeared him to the region, and gave him ideas as to how his talents could be transferred to that area. He had already begun to function as self-contractor in Atlanta; thus, bit by bit,that strategy was transferred to the upscale Bay Area and nearby Silicon Valley. This is now, "Leave it to Peter's" base of operation, although frequently he is summoned to other parts of the country.

When my brother Richard passed, Peter was indispensable to the family. After a three-way phone call to help us establish the fact, he flew to San Diego in order to accompany me to Atlanta. There we met up with my nephew Jim Richardson, his wife Malqueen and son. Jason. Peter stuck with us throughout the whole ordeal, and was very instrumental in helping us to pin down vital information.
For years, Peter would dedicate several summer weeks applying his skills at the exclusive Bohemian Club, a few miles from San Francisco. Formed in the 19th century, the club has been a getaway for countless notables in politics, business and showbiz. Peter is now pondering whether he will continue that summer diversion from his regular pursuits.
Several years ago, Peter began celebrating his June birthday by hosting an onboard party in the middle of San Francisco Bay. Clad in all white, the partygoers gather at the pier in Jack London Square, in Oakland, and make proper obeisance to his royal regency, the white-be robed Peter of Pan, before boarding the boat, with its larders well stocked with all manner of elegant libation and victuals.
I had other local visitors during my frequent stays at the VA blind rehab in Palo Alto. Mrs. Mary Parks Washington and her daughter Jan Lisa occasionally would come by and take me to brunch or dinner. Apart from being the widow of a Tuskegee airman, Mary is an art educator and talented painter. Jan Lisa was pampering PanAm passengers all over the world when they were still called, "Hostess" -- and when sky-borne melanin was still at a premium! One Christmas, I took Joanne and Peter to meet the Washington's, at their home in Campbell, near San Jose. Through their mutual acquaintance with Atlanta, they were able to make an immediate connection. Although Joanne can now only be located through pinpoints on a world map, Peter maintains his contact with the Washington's. We visited them following Peter's most recent birthday jaunt.
Attesting to the fact that Peter's generosity and kindness are constant and enduring, there is a disabled, elderly lady who was a neighbor of Peter's. He would look in on her daily and make sure she was eating properly, and did not lack of necessities. Subsequently, she has been in a residence facility for several years, where Peter still visits her, provides her and others there with necessities, and occasionally takes her on a shopping trip.
To disabuse anyone of the notion that Peter is a pushover, even when on edge, his palliative personality persists. Listen to him on the phone, as he, for the second time, smilingly asks a polite but bumbling bank employee to put a supervisor on the phone: "…I know you are doing your best, but while I am able to keep my explosive temper under control, I would appreciate it if you would allow me to speak to a supervisor…"
It is not surprising that an ebullient personality such as Peter has been the subject of my poetic pen. Following is my latest poem, presented to Peter on the occasion of his latest birthday:
PEDRO, MEET PETER
Peter, oh Peter –
"Peter Pan," in a way --
Sort of, "Life's Cheater,"
The way that you play.
Always surrounded
By adoring fans.
Keeps one astounded –
Are they all, "Peter Pans"?
Daily life finds you
Popping up anywhere.
Seems there are none who
Can make you despair.
In Oakland? – No.
Where, then –
A Silicon show?
Writing a, "Poison pen?"
Hah! You'll never know.
Brazil, perhaps?
Asia? La Rue de la Paix?
Assisting euthanasia?
He'll never say.
A pop-in on D.C.
Or Texas – that's home?
"Mamacita, here I be –
"Whoops, now I'm god!"
Oh, yes, Atlanta –
Heart and soul, for awhile –
Then, "I can't stand ya" –
"Later, we'll smile." 
With all that fuss and blunder,
The Whirling Dervish display,
It all finds itself under,
When June brings his birthday.
Look out, San Francisco!
Dear Oakland, take care!
Your bays are about to
Become Peter's fair!
The evites and skirmishes
Throughout U.S.A.
Are now Whirling Dervishes –
ll in white, at the bay.
But, wait! – What's that vision,
Be robed to the feet,
Rising with such precision? –
Why, look! – It's old Pete!
Yes, Peter Pan lives, folks.
Ya gotta believe –
In Oakland or Neverland Oaks –
Just peek under Pedro's sleeve!