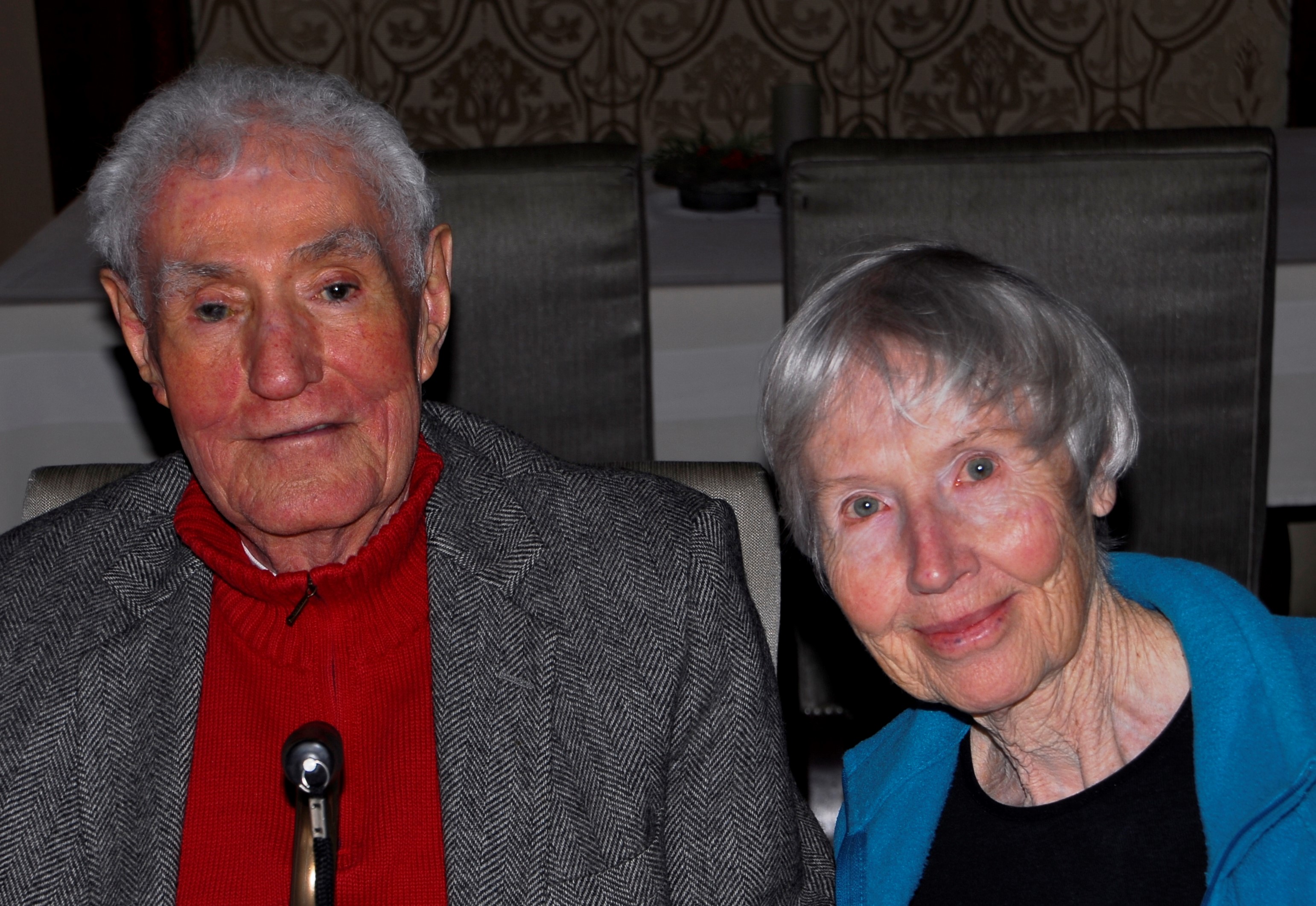 Tom Hughes and wife
For just short of a century, The Braille Institute of America has been a beacon and shelter for adults and children born without sight, or later deprived thereof in a variety of ways and degrees. Apart from inducing geniality among those of similar experience, the Braille Institute also offers instruction in a plethora of useful skills and knowledge. The teaching of Braille reading and writing remains its basic raison d'etre. A free, now-digital library system, in conjunction with the National Library Service, is a veritable treasure for those deprived of the ability of reading the written word. Both Tom Hughes and I counted ourselves among the denizens of the beautiful San Diego Braille Institute facility in the part of San Diego known as La Jolla.
Mahmud Ahmadinejad had just become President of Iran. Having been attendee and instructor at the Braille Institute since the beginning of the New Millennium, I was just returning from a three-year hiatus with the International Tutor-Mentor Program at San Diego State University, while at the same time attending an adult school piano class. I met Tom Hughes for the first time when I signed up for his Western Civilization class. He was using those extraordinary ITV videos that feature Professor Eugen Weber brilliantly laying out the evolution of life in the Western Hemisphere. He takes you from the emergence of writing in the now-defiled Fertile Crescent between the Tigris and Euphrates Rivers; through the Greek and Roman Empires; and down through the turbulent European development; all the way into the 1980s.
Although Tom and the class mainly depended upon Professor Weber's mellifluous, acquired-British tonality. Tom would play the half-hour video, after which we would discuss the subjects covered therein. Tom had been a lifetime educator, and was well positioned to lead the discussion about this marvelous march of our humanity.
Tom Hughes constantly made it clear that, without the assistance of his devoted wife Lois, there would be no class. He described how she would go over the tapes with him, making notes and pointing out the things that were to be discussed in class. It was obvious that Lois was a lot more than just a pretty extra set of eyes.
Once, Tom asked me to substitute for him during a time when he and Lois would be traveling. Knowing that I would not have the lucidity of a Lois to aid in formulating class prep, I politely demurred. Instead, I agreed to fill in the time spot with a class, teaching Spanish.
I met Lois for the first time at a Braille Institute open house. Braillites with manual or other skills upon these occasions are encouraged to set up booths to demonstrate and vend whatever their individual creation might be. This was my first time, and I was displaying the CD of an anthem I had written and dedicated to the Braille Institute. It is entitled, "Hail, O Hail, Braille Institute," and is arranged, played and sung by my music colleague Tommy Dodson. Dutifully, Tom and Lois made their purchase. On other occasions, they did the same with other of my musical compositions or collaborations, as well as my published memoir, which they very kindly had helped me edit!
Lois and Tom were among those who mostly commented on my humble IFZ articles. Ergo, it is hoped that this personal paean to Tom will provide a little comfort for his wonderful widow. From what I heard about their writer-son and his involvement in film festivals, it is obvious that Tom and Lois have spread their elevated values in many directions.
Filling in for Tom drew me into teaching again at Braille. Apart from Spanish, I covered music and News and Views. The latter was very popular, and grew to unmanageable proportions. I needed help in taking roll and reading the written items I prepared for class. I approached Tom, and he was able to convince Lois. She was a tremendous asset and a great relief to me and the rest of the class.
One Christmas season, I hosted a large dinner at the U.S. Grant Hotel. Lois and Tom were able to join us. The Rosas and kids were there, as well as Michael Ann's mom Mary. Millie McCoo came, as well as Tommy Dodson and Horace Birgh from the Palm Springs area. A wonderful actor, Portia, was there as well. She was the principal narrator in my play, "Strange Land/Strange Brand," which had played at the Community Actors Theatre. After dinner, we retired to the lounge, where Tommy Dodson regaled us with his brilliant piano. Portia delighted us all with a reading from the play. Tom and Lois were able to enjoy themselves until the bitter end. They were smart enough to have reserved a room at that very hotel!
I had switched Braille attendance days, and no longer saw Tom on a regular basis. When I got Lois' note describing how Tom courageously had asked her to turn off the infernal machine that only exacerbated his last, difficult breaths, I really got to see the staunch stuff of which they both were made. As I explained to Lois, she never would be alone. Two marvelous souls had now become one.
***** ***** *****
A guy named Tom passed by one day.
His wisdom did he softly say.
Dear Lois was there;
Just one perfect pair.
Now, rest ye, Tom, we gently pray.