Although Jacquelynn Kresman was born in Lorain, Ohio, she came west with her parents when very young and has always thought of herself as a 'native' of beautiful San Diego, California. The family built a home in the Point Loma neighborhood, just blocks away from some of the area's most beautiful shoreline. She reminisces; "back then a young kid could wander alone and I took advantage of that freedom and spent almost all of my time at the beach". Living just a few blocks from the beach as an only child, it was her playground and her best friend. She made it her mission to capture on canvas every inch of the captivating coast of her adopted state. Kresman, as she signs her work, has canvassed that seashore. Her artistic vision went naturally to the sea-conscious environment from which she developed.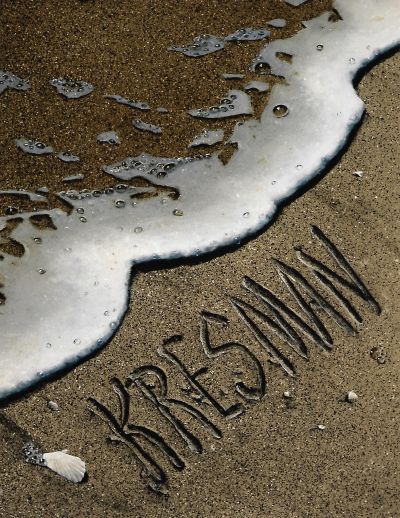 When asked how her parents most influenced her art, she responds; "They never bought me a single coloring book. Instead I got blank note pads with pencils and pastels. I learned early on to create my own images". She would take those notebooks to Ocean Beach and the tide pools of Sunset Cliffs and sketch everything she saw. She remembers painting a beach scene when she was six years old, in order to let her parents know what she had been doing that day. By her twelfth birthday, she had started learning to scuba dive.
After graduating from Point Loma High School, she became part of an oceanography program at Bishops School in La Jolla. Although she loved painting from a young age, she felt she needed to have a "real job", so she studied Oceanography and Marine Biology at the world famous Scripps Institution of Oceanography. At the time she dreamt of sailing off with Jacques Cousteau. Kresman developed a carefully refined expertise and 'eye' for the water creatures that would later populate her detailed tide pool paintings. For Kresman, the ocean and seashore are not only inspirational from a scientific viewpoint, but from a spiritual and artistic one as well. Later, she studied under William DeShazo, a New Mexico cowboy painter, transplanted to Southern California, who taught her the "basic skills" she depends on to today.
Kresman started her professional career by showing her work at 'art in the park' type local shows around San Diego. She eventually reached the top of the waiting list and was granted a studio in Balboa Park's Spanish Village. It was here that her first real collectors began to appreciate a still rough gem. Two of these collectors realized that buying every piece they could was not enough, so they confided in her the dream of opening their own gallery and so, she had her first professional level showcase in The Coronado Art Gallery.
Next came representation in Southern California's oldest and most important art colony, Laguna Beach. It was here that Leslie B. DeMille (cousin to Cecil) recognized the potential of a rare bird in the art scene of the time, a totally new style. So it was that DeMille became the first major dealer to feature her work. From there it was only a few months before the west coast art capitol, Carmel by the Sea, opened its doors in welcome. Here she was fought over by the major galleries of the time. Although she was invited into the premier among them, Gallery Americana, it was soon apparent that the idea was to bury her so as not to compete with the established names. Luckily a new upstart showroom that had yet to land a star, made one out of Ms. Kresman and so Lindsey Gallery became the place where she went from new upstart to a major force to be reckoned with.
The press, including the LA Times began to take notice around that time.
Soon Southwest Art Magazine contacted Kresman with news they wanted to do an article about her. This was a major step in several ways; it was the first major attention from a prominent art publication and secondly, SW Art had never featured an artist that was primarily focused on the sea. Their explanation was that they wanted to expand the definition of what a south west artist was. Well they sure did, and in fact, when the edition was published, the cover was a beautiful rendition of what would soon come to be known as a "typical Kresman". From there her career was assured.
A trip to Puerto Rico originally meant as a vacation, resulted in the island's premier showcase, D'Esopo Gallery (now The Gallery Inn) extending an invitation to have a show. So what had now become a 'working trip' resulted in her first scenes of the tropics. She even traveled beyond 'La Isla' with side trips to the British Virgin Islands that rounded out her vision. This resulted in the island's premier English language newspaper doing a fantastic review.
A trip to New York City resulted in being asked to show at the greatest and most respected showcase, Grand Central Art Gallery. This was the pinnacle of success for any artist who specialized in realistic art. At a time when the major focus of the most museum shows focused on abstract work, most important periodicals had to acknowledge something else and so 'Art in America' and 'Art News' made space on their pages for Jacquelynn Kresman.
A few years later a new force appeared in Carmel, a man by the name of Mario Simic. He had a dream of opening the first fine art 'super-store' where he intended to basically 'steal' the biggest star from each galley in town and put them all under one roof. Although it hurt Jackie to move from the nurturing comfort of the Lindsey Gallery, the offer was too much to pass up and Mr. Lindsey understood. Simic Galleries soon opened locations in La Jolla, Beverly Hills, Seattle and Hawaii. Although the gallery chain has since closed, Mario is not one to be kept down and has a new showcase, Renoir Gallery, back in Carmel where he first got his start and you can still find Kresman originals and giclées there.
Simic Gallery one woman show Rodeo Drive
Kresman's art captures not only the beauty of seascapes and tide pools, but also of mountains, waterfalls, sunsets, figuratives and landscapes. She has even created scenes of 'urban life'.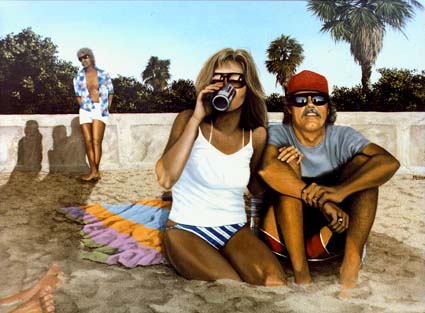 "Shades of Summer"
Employing a contemporary glazing technique reminiscent of the great Renaissance painters, Kresman's artworks achieve a lustrous, pearl-like quality, as if they were illuminated from within. Precision brushwork captures the detail from the foam and froth of the surf down to the very grains of sand. Her depictions of marine life uncover the marvelous minute and lively world of the tide pools; sea urchins, mollusks, starfish and crabs, all beneath the water's surface. Her mountains and waterfalls put you there in the moment; you can almost hear the water splash, the birds sing and the wind peacefully blowing by.
Interview with Jacquelynn Kresman at work
Although she greatly admires the photorealist painters like Richard Estes, Chuck Close and Audrey Flack, she does not think of herself as one of them. "My work seeks to capture the essence of a scene, not the literal image." Some of her pictures are actual locations, but many are not. When she travels her goal is to absorb the minutiae, because "it is the sum total of detail that brings a painting into focus and provides the essence".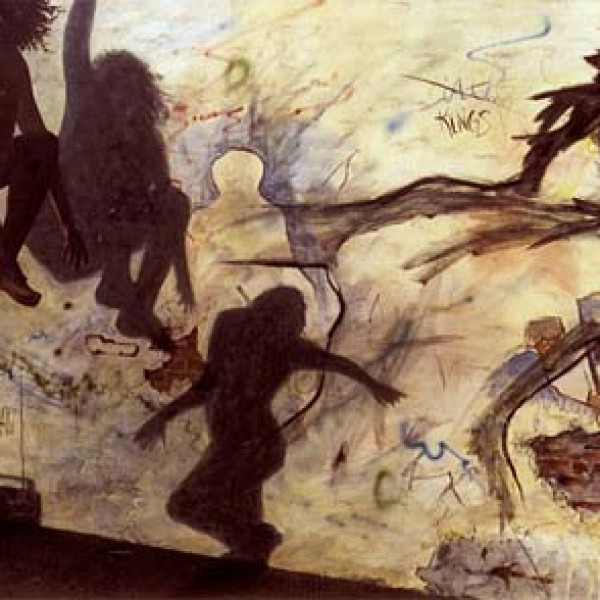 "Street Dancers"
Today all of the major publishers have editions of giclées, limited edition lithographs, posters, greeting cards and even magnets showcasing the art of Kresman, but if you want an original, you only have a few choices; Find one at auction, contact galleries and see if they have a re-sale or if you are a serious investor/collector, commission one of the few pieces she still does each year. But hurry, because she has been overheard talking of 'retirement'…
In the cause of full disclosure, I have known Jack for many years, was once her agent, manager and yes, that is me in many of her paintings, including in my younger days, here in "Hey Dude".
This is a series of short Questions and answers with the artist;
How do you feel when you're painting?
What role does photography play in your work?
Why not do photography rather than paint realism?
What hinders your creative process?
Why do you paint with such extraordinary realism?
Why do you paint with oils?
Is your work really as simple as it looks?
Do you get nervous when showing your work?
What kind of criticisms have you gotten in the past?
And finaly a video that I find informative and inspiring and captures the very essence of my friend Jacquelynn Kresman;
CREDIT:
All of the videos in this article were produced by RosArt Multimedia Inc. for a CD entitled The Art of Kresman