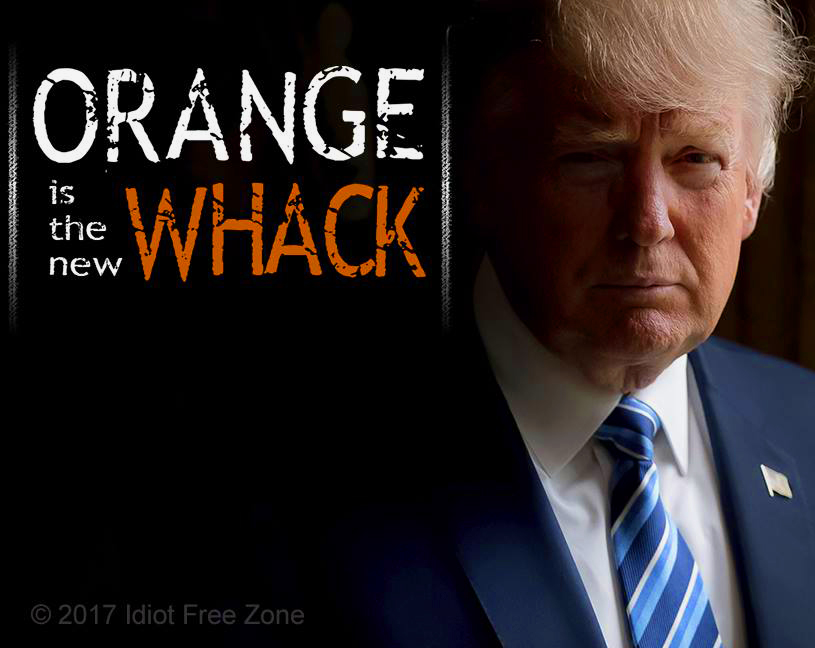 A lot has transpired (yes, I know I've used this line before) since Dec. 28, 2017 when I wrote "Orange Is The New Whack II" in which I said, "… not a day has gone by without one lie or another (often multiple lies per day) coming out of the Orange Whack's mouth. These are not just harmless falsehoods; they are delusional, democracy-eroding statements that may very well herald the collapse of our democratic republic." Today is Jan. 9, 2018. The New Year is less than two weeks old and the Orange Whack's volatility and the question of his fitness for office is, at long last, being publicly scrutinized and has become the leading topic of discussion on all major news outlets.
All this sudden mainstream media (MSM) focus on the president's mental health was triggered by the release of the book, "Fire and Fury: Inside the Trump White House", written by Michael Wolff. But MSM aren't the only ones in a tizzy about this particular tome. The White House bubble-dwellers are in spin-control mode, trying to cover for the POTUS whose orange panties are in a bunch (again) over the unfavorable light it shines on him and his presidency.
Trump, being Trump, took to the Twittersphere to set the record straight once and for all (until the next time) regarding his mental capacity. Astonishingly, he truly did set the record straight in my mind and others, too, I'm sure. He left not a single doubt about his mental health and unfitness for office. His tweets speak for themselves. Believe me:
Tweeting was not Trump's only bizarre response to Wolff's expose. He went further down the authoritarian rabbit hole with a desperate attempt to stop the book before it could be released. He failed in that attempt. Bigly.
Hats off to the legal team, Davis Wright Tremaine LLP, and Elizabeth A. McNamara for her written response to Trump's threat to bring legal action against the book's publisher, Henry Holt & Co., and the author Michael Wolff. Henry Holt & Co., upped the release date in defiance of the Orange Whack, knowing it would be a bestseller. That move was brilliant, as hard copies are flying off the bookstore shelves, digital downloads throttling eBook servers. Well played, Henry Holt & Co. Well played.
Personally, reading "Fire and Fury: Inside the Trump White House" didn't change my opinion of Trump, his sycophant GOP supporters, or the Russian interference in our elections. It is rather gossipy and brings no new information to light for me; I've always known "Orange Is The New Whack", and the resulting MSM buzz over the book and the Orange-POTUS' delusional, unstable disposition is a welcome turn of events.
However, I do find myself a bit puzzled as to why MSM didn't latch on to Dr. Bandy X. Lee's book, "The Dangerous Case of Donald Trump", a compilation of 27 mental health professionals' assessment of the POTUS. That being said, it appears that Congressional Democrats and at least one Republican have taken notice of - and taken seriously - the opinions of Dr. Bandy X. Lee, her book and the opinions of other mental health professionals. Dr. Lee was called to a meeting with these members of Congress back in December... before he proclaimed himself to be a "stable genius".
It is exhausting for me (yes, I know I've used this line before) to try and keep up with 45's insanity; thankfully the MSM is finally, openly expressing/reporting on the Trump's three-dimensional state of mind; Delusional, Deranged, and Dangerous.
AUTHOR NOTE: I am an avid reader. I read, on average, 1.5 books a week (the Amazon Kindle store loves me). I subscribe to many news publications and also read/follow many writers' blogs and newsletters. As an Idiot Free Zone author, I can't write as fast as I can read. In fact, I did not want to write this third installment of 'Orange Is the New Whack'. No, I wanted to take the easy route and simply update the second one with links to more articles on the subject. But my slave-driving bossJose Rosa made me write this piece! Just kidding - I am just ribbing Jose as I stray from this note's intent to link to an article written by my friend John Lundin: "A Growing Consensus: Trump's Mental Health Is A Danger To Us All".