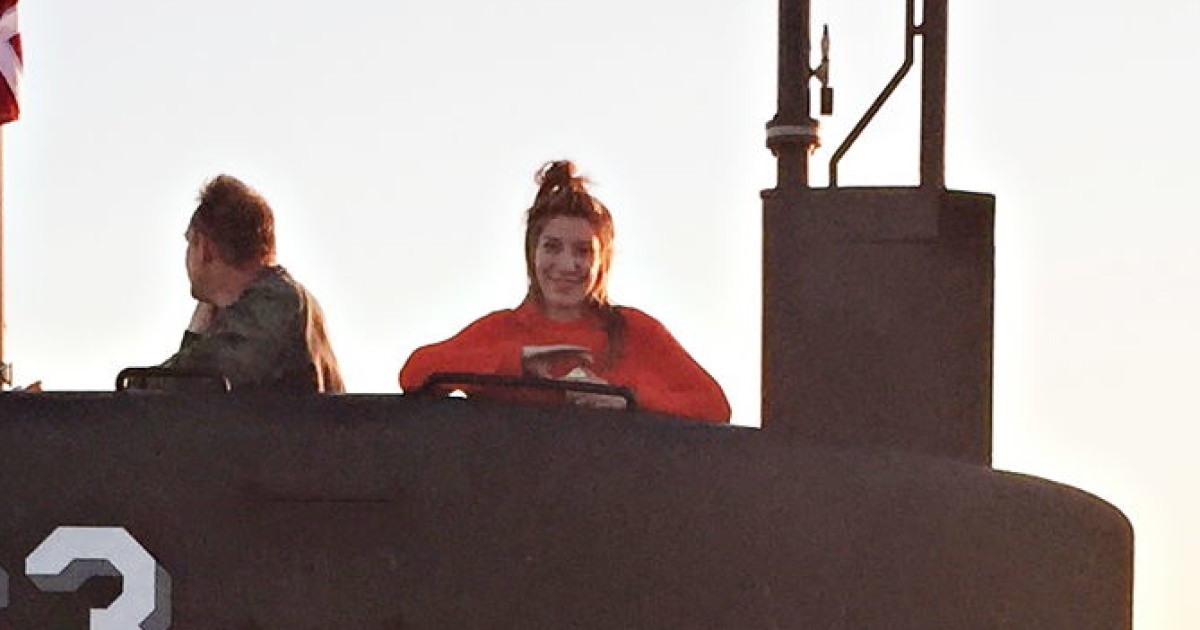 (This is thought to be the final photo of Kim Wall -- an image capture from a smartphone video -- as she sailed out of Copenhagen Harbor onboard the Nautilus. Seen also is Peter Madsen)
October 21, 2020, UPDATE-- Please see the major updates below, including Peter Madsen's briefly horrific escape, having threatened guards with a false gun and explosive device wrapped around him,Tuesday, Oct. 20, 2020, from a Copenhagen prison, where he has been serving a life sentence since 2018.
Here is a 1 minute video of his capture


A bizarre case of manslaughter or homicide -- that has begun to remind this writer of the 2011 Scandinavian TV crime series, "The Bridge" – just got stranger than fiction. Yesterday, August 21, a decapitated, armless and legless torso of a woman was discovered not far from that bridge.

BACKGROUND:
Several hours after 30-year old Swedish journalist, Kim Wall, had sailed out of Copenhagen Harbor on Thursday evening, August 10, onboard the Nautilus, touted as the world's largest homemade submarine, it went missing. The journalist's boyfriend raised an alarm after he'd lost contact with her, informing the police that Kim had been on a freelance assignment for an article about the submarine and its inventor and owner, Peter "Rocketman" Madsen.
Madsen is considered a hero among some circles, not only for the submarines he has built (with the help of many) but also for his work to help launch a Danish rocket into orbit. See "From Earth to Mars," by Petre Guest.



(2-1/2 minute video documentary, released only 3 months ago, describing Peter Madsen's space ambitions)
(1-1/2 minute video by Washington Post. It includes a brief profile of Kim Wall)

(clicking on this image will take you to many of Kim Wall's investigative journalistic work, including an article on UNH's STEM Discovery Lab)
(From left to right: the sunken Nautilus being raised, Swedish journalist Kim Wall, Danish inventor Peter Madsen)
Danish and Swedish police and coast guard immediately launched a major search of the area the submarine had likely navigated late that Thursday night. On Friday morning at 10:30 AM, the submarine was sighted just south of the Copenhagen island of Amager, in the Køge Bay overlooking the Baltic. The boat had sailed under the very bridge connecting Sweden with Denmark, where the award-winning 2011 crime fiction had been filmed. That fiction opens with the shocking discovery of a woman's body, cut in half at exactly the Danish-Swedish border, on the Øresund bridge-tunnel.

As a private boat raced towards the submarine, Madsen jumped overboard, after which it suddenly sank. Once on shore, Madsen explained that he didn't know where Kim Wall was, saying he'd dropped her off by the coast of southern Copenhagen near a restaurant. He also stated that the submarine sank due to a small ballast problem that grew unexpectedly critical as he tried repairing it. Mysteriously, he is whisked away by the police, and the next bit of news is that Madsen has been arrested on manslaughter charges. Following a preliminary court hearing, which is constitutionally required within 24 hours of an arrest, his attorney, Betina Hald Engmark, stated that he pled innocent but would not contest the court's ruling that he remain incarcerated for 24 days while the police investigated the case. The court-hearing was closed to the public, in the interest of Kim Wall's family, stated the defense, so the facts of the case have only trickled slowly into the public domain, and has also been the source of much speculation.
The submarine sank in shallow waters – 7 meters, some 20 feet -- so it was immediately salvaged by a crane-barge and brought to Copenhagen for the police to complete a forensic investigation. A police spokesperson then stated that the submarine had been willfully sunk. It was also disclosed that a ship in the heavily navigated sound separating Denmark from Sweden had nearly collided with the submarine in the night hours of early Friday morning, August 11, right at the time when Kim Wall's boyfriend had alerted the police, and that it had sailed on the surface without exhibiting legally-required lights.
Three days ago it was learned that on Monday, August 14, Peter Madsen had changed his story, admitting that Kim Wall had accidentally died in the submarine and that he'd given her a burial at sea. This shocks her family, colleagues and friends in Sweden, as well as the many Danes acquainted over the years with "Rocketman" Peter Madsen.
As ships and helicopters searched for Kim Wall's body, yesterday afternoon, August 21, a
man cycling along a dike overlooking the Baltic by the wetlands on the southern tip of Copenhagen's Amager Island was shocked when he came upon the floating torso of a decapitated, armless and legless woman. After a preliminary obduction, a police spokesperson stated this afternoon (aug. 22) that the torso might be that of Kim Wall, but final confirmation still awaited a DNA analysis. That report is anticipated for release tomorrow, August 23. The torso's limbs and head had been severed by human intent, according to the preliminary autopsy.

This story will be periodically updated as the facts come to surface.
(Copenhaen police at the site of the torso find)


UPDATE, Wednesday, August 23, (7:30 AM CET:) >>Der er en match<< "There is a [DNA] match [to Kim Wall]" tweeted Copenhagen police. This evidence contradicts a statement made yesterday by Madsen's attorney, Betina Engmark, where she stated (translated): "No evidence has been brought forth that this body has anything to do with my client. And therefore these two events [Kim Wall's disappearance while with Madsen and discovering the torso] should not be linked. This is what the police is doing, and that is not appropriate."

Peter Just, chairperson of the board of directors for Peter Madsen's private space and submarine research innitiatives, released this statement (translated from the Danish): "[We] are furioius over what has occured to Kim Wall. Something horrific happened onboard [the submarine]..." He went on to explain, on a very sad note, how this spells the end of years of work from many people deeply vested in contributing to the knowledge of pushing the boundaries of humanity's outer and deeper limits. "The dream is shattered for us all. The project pales in comparison with a meaningless loss of human life. There is no longer a desire to continue. Confidence is broken."

In a 9 AM (CET) press briefing, just now broadcast on Danish TV-2, Copenhagen police homicide chief inspector, Jens Møller, disclosed that though metal had been attached to the torso, it had failed to keep her submerged. Further, that despite the intentional sinking of the submarine, forensics found blood traces in it that also match Kim Wall's DNA profile. Jens Møller added (tarnslated), "Regarding the autopsy, I can confirm evidence of post-mortem cuts on the torso, which appear to be an attempt to prevent the torso from rising to the surface from the sea floor due to the accumulation of gasses."

In a 4 PM statement to DR (Danish public TV), defense attorney Engmark said (translated), "My client and I are very relieved that the find [torso] has finally been identified by the police. We are gratified that this part of the case has been resolved." She concluded by reiterating Madsen's plea of innocence to murder charges.
MAJOR UPDTE, OCTOBER 20, 202O: Convicted sex-murderer, Peter Madsen, captured after escaping from his life sentence. Here is the story from The Guardian: Peter Madsen threatened a prison employee with what appeared to be a homemade explosive device before fleeing from Herstedvester jail, pursued by guards, who alerted a nearby police patrol.
Madsen had tried to hide in a white van but officers surrounded the vehicle and dragged him out. They then handcuffed him to a fence while waiting for bomb disposal officers to arrive.
The Ekstra Bladet tabloid posted a video of Madsen sitting calmly on the grass with his hands behind his back while armed officers watched from a short distance away. After several hours, specialists established the belted bomb-like object around his stomach was a fake.
Police then arrested Madsen and took him back into custody. Nobody was physically hurt during the escape, the head of the prison, Hanne Høegh Rasmussen, said on Tuesday in a press conference, but she added that the incident had traumatised her employees.
In 2018, Madsen was sentenced in the Copenhagen city court to life in prison for killing Kim Wall, a 30-year-old reporter from Sweden whom he lured onboard his homemade submarine with the promise of an interview. He dismembered her body and dumped it at sea..."

Here are a couple of short (under 1 minute) videos of the dramatic capture of the horribly dangerous man
Here is a summation, from The Guardian, of the entire Peter Madsen case (my original article here was written in 2017, prior to the court case and the horrific evidence which it brought forth):
"A Danish inventor has been sentenced to life in prison for the premeditated murder and sexual assault of the Swedish journalist Kim Wall on his submarine in August last year.
The judge, Anette Burkø, and two jurors found Peter Madsen, 47, guilty of all three of the main charges of premeditated murder, aggravated sexual assault and desecrating a corpse.
"This is a cynical and pre-planned sexual assault of a particularly brutal nature on a random woman who, in connection with her journalistic work, accepted an invitation for a sailing trip on the accused's submarine," Burkø said, explaining the rare decision to hand down Denmark's most severe sentence.
Wall's parents, Ingrid and Joachim Wall, who had followed much of the trial from the courtroom, were not present for the verdict, although the seven family seats were taken by other friends and relatives.
Wall was 30 when she died. The journalist had reported from all over the world for Time magazine, the New York Times and the Guardian, among others. Her boyfriend told the court she was "incredibly ambitious" and "amazingly curious".
[...]
The case has gripped Denmark ever since Wall failed to return from a trip on Madsen's self-built Nautilus submarine on 10 August. Madsen was a semi-celebrity at the time of his arrest, having made a name for himself with three self-built submarines and two crowdfunded manned space projects.
Burkø said his version of events – that Wall died when an accident filled the vessel with toxic exhaust fumes – was "not credible and not consistent with the following decision to dismember the body". Madsen had changed his explanation for Wall's death several times, Burkø noted.
She said the court instead believed the prosecution's theory that he had sexually tortured Wall to fulfil a violent sexual fantasy.
It is very unusual for a life sentence to be handed down for the murder of a single person in Denmark, where prisoners sentenced to life imprisonment serve an average of 16 years.
[...]
Over the course of the 11-day trial, spread over seven weeks, prosecutors presented their case in often horrific detail. But Madsen himself refused to go into detail in court, calling Wall's death "a very, very traumatic event which I do not want to describe".
[...]
During the trial, the court heard from a woman to whom Madsen had confessed that he was "a psychopath, but a loving one", a judgment backed up by a forensic psychiatric report that described Madsen as a "perverse polymorph" with "psychopathic traits".
Such was the interest in the trial that the Copenhagen district court opened up a special room with a video link on some days to accommodate as many as 115 journalists from 15 countries. Wall's parents attended the trial most days and quietly took notes from specially reserved seats beside the media section.
UPDATE, 5 AM Copenhagen, October 21, 2020: In an interview broadcast during the 5 AM, October 21, 2020, Danish TV2 news, Denmark's Minister of Justice (Attorney General), Nick Hækkerup, stated that aside from ensuring that such an incident never be repeated, it will be unlikely that Peter Madsen will continue being interred in the top-security Herstedvester Prison near Copenhagen. It houses up to 158 of Denmark's most heinous and predatory criminals, but with psychiatric care, other therapies and education etc. readily available to the inmates. During Madsen's 2 years of a life sentence since 2018, he manipulated a female prison guard to fall in love with him, ruining her career, and also manipulated 39-year old Russian activist, Jenny Curpen, in a self-imposed exile in Finland, to marry him in 2019. In this BBC story, she accuses Denmark of having demonized Peter Madsen.

Jenny Curpen