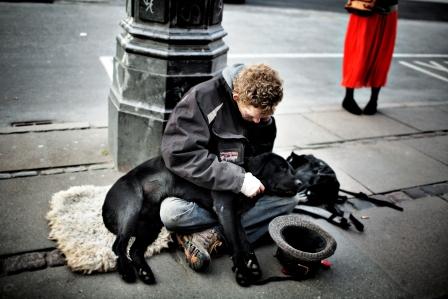 Homeless person begging along Copenhagen's exclusive Strøget shopping street
The gap between the poor and wealthy has suddenly widened like no one has a memory of in Denmark, the world's 6th wealthiest nation per-capita.
Last month, the Danish government of Lars Løkke Rasmussen passed a law at lightning speed that calls for a mandatory prison sentence of 14 days and a fine if caught begging in a way that makes people feel "uncomfortable." Its stated political agenda is to reduce the number of homeless Romani people, aka Gypsies, roaming Denmark. Even the parliamentary-majority, so-called center-left Social-democratic party endorsed the law.
On June 25th, a Swedish homeless person of Polish descent became the first person to be prosecuted by the law. But due to another Danish law, which prohibits the imprisonment of people psychologically unfit for incarceration, his case was not successfully adjudicated.
In the past week, two Rumanians, caught begging in front of Copenhagen stores, were indicted. One is a 41 year old man who had been sitting in front of an H&M fashion boutique, in the exclusive Strøget shopping street district. The other is a 29 year old man who'd been standing in front of an Irma supermarket, which caters to Copenhagen's wealthier palates.
Never mind, as history has shown, the horrors of criminalizing being poor, and its racist undertones... but the waste of taxpayer resources and public servant time to enforce and prosecute, and then incarcerate homeless people begging, point to the irrationality of this law. Some suggest it would be much less a burden to the Danish treasury to economically/socially/psychologically help them. And it might be judged inhumane if a case were to reach the European Court of Human Rights in Strasbourg, France.
It would definitely be judged racist if homeless Danish citizens are disproportionately not prosecuted.
And what about true crime?
Marlene Granild, co-founder of Foreningen Hjemløse til Hjemløse (Association of the Homeless for the Homeless), puts it this way, translated: "This is state-sponsored criminality... If the homeless aren't allowed to beg or otherwise live on the streets, that pressure [to survive] forces them to engage in criminal behavior."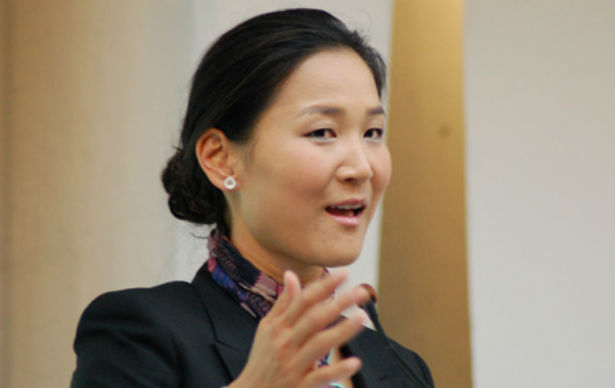 The mayor of Copenhagen's Department of Employment and Integration, Anna Mee Allerslev, has serious issues with the law as well. "When is someone considered a beggar?" she asks, translated. "What about a street-performer? Under what [legal] interpretation [of causing public discomfort] does it become a police enforcement matter? Pure and simple, this is legal mumbo jumbo."
One might also consider that the wealthy in Denmark do not want to see the poor, nor do they want tourists to be aware of their existence.
(1-minute video of beggars on Strøget in Copenhagen, one of Europe's longest pedestrian streets, where the world's most expensive brands are sold. The number of homeless people in Denmark has increased by 23 percent since 2009, a report from the Danish National Centre for Social Research (SFI) has shown. (from The Local)
The largest increase is found among those aged 25 to 29. Homelessness has increased 29 percent amongst the age group since just 2013.)
Among the causes is the government's reduction of taxes to the wealthiest segment and corporations, coupled with historic cutbacks in welfare, mental health and disability services, unemployment benefits along with sharp increases in housing and living costs.)
***
Norway, the world's 3rd wealthiest country per-capita, also entertained a similar law. It even included a provision that criminalized those who gave to beggars, wording it: "complicity with beggars, including giving them transport, shelter, or supplies."
The proposed law was neatly packaged and spun as a means to curb "human trafficking and violent gangs" by the center-right government of Erna Solberg . But this past February, pressure from the center-left parties and human rights organizations forced the government to shelve the idea.