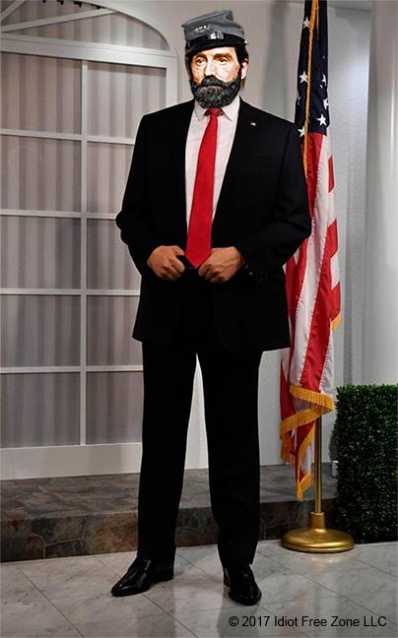 Citizen Republican,
Who are you?
Lincoln, you are not.
Somehow, some weird artisan,
Outta the blue,
Decided to shift the plot.
Hail. Republican, they'd shout!
Newly born,
You latched on to good ol' Abe.
Come, let's call the heroes out;
Sound the horn;
We'll show 'em how to behave!
Elephant-branded, you stood,
Each true soul,
Quite ready to sacrifice.
Certain, each man, that he could,
Young and old –
Whatever – he'd pay the price.
Union Forever, they'd call –
All for One!
Confederacy's not the thing!
Hold it together for all!
By the gun,
House Undivided, we'll bring!
Finally, Democrats lay
Side by side –
Republicans there, as well.
All, the awful cost did pay –
Damn the pride! –
Disputed land was now hell.
Freedom flew through bloodied gates,
Stained by war.
A region's lifestyle was changed.
Left behind were deep-felt hates.
Rich and poor
Affected where this thing ranged.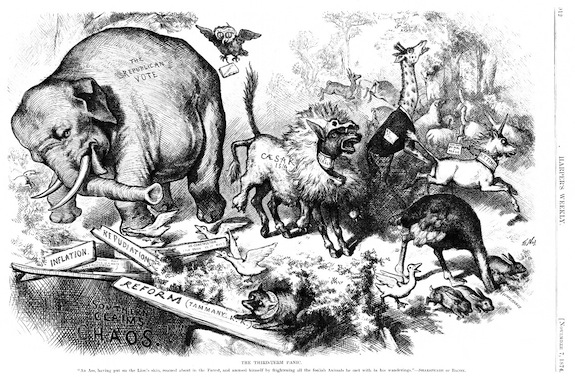 After the next century turned,
Auto-pushed,
And crashed into a Great War,
Long Sufragetting now earned,
Finally,
Amendment Nineteen – Big score!
After a decade of booze,
Crooked dice
And poverty at the door,
Both parties began to ooze.
Melted ice
Began to cover the floor.
Decade by decade, they bled,
Drip by drip;
The colors began to change.
Donkey blue; elephant red,
Tip to tip –
The trumpeting, now, was strange.
Though you say you're G.O.P.,
"Abe," you're not.
It's clear that you're in disguise.
It's an elephant we see
On the spot.
At least, try to act Abe-wise.
Lincoln, when treason he saw,
Called it out,
And did so without rancor.
Why do you not bar the door,
Yell and shout? !
Ol' Sam has grown a chancre.
That old donkey's in your heart;
Thus it ticks,
No matter how you demur.
You can watched the nation part,
Take its licks,
And do nothing, like a cur.
Abe is watching, G.O.P,
Every hour,
You'd best learn to sound the bell.
Lincoln listens, all does see.
Gentle power
Reminds you of that living hell!