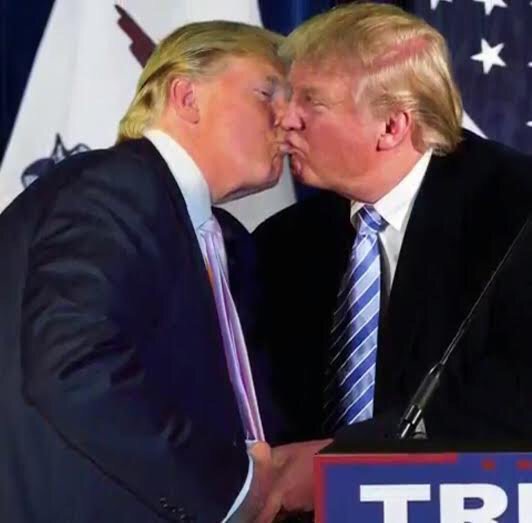 The fabled, "Don Trump –
His own name was given,
But that name he dumped –
As would "David Niven."
When he donned a part
For this or that movie,
With this or that tart,
The match-up was groovy.
But, Trump chose a name
For more than the drama.
His was a shrewd game
He'd play on "yo' momma."
The names that he chose --
"John- Miller" or "- Barron" –
Were used like a hose
Or for some "deal-squarin'."
If you got a call
From some "John" or other,
And he said with gall:
"I'm not Don Trump's brother,"
"But, you listen here,
"You sad-sack reporter,
"You may have no fear --
"Just write what you 'oughta',"
"He'll see you in court,
"If you do not heed.
"Your funds may run short;
"We know how you'd plead."
Another "John" spoke,
When ego was nigh.
He'd offer a poke
Toward his "boss's" charm-high.
He allowed how "this babe,"
Or "that star" or "singer"
Could do naught but cave
For his boss, the ringer.
How strange this John's lore,
For one newly hired --
The baggage he bore
Must needs made him tired!
But, he soldiered on
With details galore.
When one point passed on,
He'd fain offer more.
When one "John" ran out,
When "Miller" would sputter,
"John Barron" would shout:
"I'm up – here's my putter!"
In that way, it seems,
Don always had cover
To promote his dreams:
"Look, I'm a lover."
When questioned, years ago,
About his fake "Johns,"
He said, "Them I do know;
"They are my own, true "Juans."
But, now, he them rejects –
"How dare you make this charge!
"This 'Don' himself respects;
"He'd ne'er ride on a barge!"
You see, the scene has changed.
Don now seeks to be "Prez."
It's not that he's deranged;
It's, "Do what he now says."
The mistake is on us,
Who seek only truth.
We make useless fuss --
It's like "Baby Ruth."
A wrapper change's not odd;
It's still the same old candy.
A skillful dancer, bare or shod,
Is still the same old dandy.
So, get set folks,
Like it or not.
Here come the jokes –
Some cold, some hot.
Regarding Trump's "Johns,"
He probably has hushed them.
Their voice was that "Don's."
By now, he has flushed them!