During its 15-year or so existence, Sin Dios (Without God) was a very well-known anarchist hardcore-punk band from Madrid, not only for its music, but also for its members' active participation in social movements and strict adherence to the "do-it-yourself" lifestyle. The band could've easily "sold out" to a mainstream record label –it was that famous– but instead, it remained "underground," successfully producing its own records and tours.
The band's drummer, Canino, whose real name is Javier Couso, is now in a place he never imagined he would ever be: he is a member of the European Parliament's Confederal Group of the European United Left. In Spain, he is a member of the Izquierda Unida (United Left) political party.
Canino recording drums for Sin Dios
In the European Parliament itself, he is vice-chair (and occasional chair) of the Committee on Foreign Affairs and of the delegation for relations with Iraq. He is also a member of the Subcommittee on Security and Defense and of the delegation for relations with the NATO Parliamentary Assembly.
No one who knew Canino a few years ago would've ever expected him to end up working for any sort of government, much less any mainstream political parties.
This is the story of how it all happened
"I started getting involved in social movements when I was 12 years old. We would get together to liberate spaces to hold cultural events and concerts to try and transform our neighborhoods," Canino recalls. "In those times, the 1980s, soon after the death of Dictator Franco, Spain was going through a deep crisis, unemployment was very high and there were still neo-nazi groups roaming about."
Canino eventually became involved in the political hardcore-punk movement, which in Spain was linked to anarcho-syndicalism. Anarcho-syndicalism, he notes, was a huge part of Spain's history up until 1956. In fact, at one point, "two out of every three workers was a member of the anarchist syndicate, the CNT (the National Confederation of Workers)." The CNT is still active.
Active in many bands in the 1980s, Canino became best known for being the drummer of Sin Dios, with whom he played all over Europe, Latin America and even Japan.
The band, which started out in 1988 playing in squat houses, was extremely vocal about political issues. Among many other issues, Sin Dios strongly denounced Israeli aggression in the Middle East, Spain's FIES "anti-terrorist" incarceration regime and military overseas interventions by the United States.
Tragedy strikes
In April 2003, Canino's brother, Jose –a photojournalist who was covering the Iraq war for Spanish television station Telecinco–was murdered in Baghdad by the US military, which intentionally attacked the Hotel Palestine, where Jose was staying, knowing full well that it was housing international journalists.
Ukranian photojournalist Taras Protsyuk, of Reuters, was also killed in the same attack.
Canino's brother, Jose, while working in Iraq
The Pentagon, while admitting it knew the hotel was a media hub prior to attacking it, claimed that the hotel was attacked in retaliation to enemy fire. It's worth noting the US military had attacked two other news stations, Abu Dhabi and Al Jazeera, that same day, despite the news organizations having provided the Pentagon with their exact locations.
To this day, Canino and his family continue the fight for the extradition of the US soldiers responsible for the murder of Jose so they may be tried for war crimes.
The murder of Jose changed Canino's life and brought him to question the movements in which he was involved with for most of his life.
"My trajectory changed radically when my brother was murdered," Canino says.
"I realized that I had been involved in movements that lacked the profoundness of the social movements of the 1930s. I realized that we were employing a misunderstood radicalism, a radicalism based on esthetics and of wanting to at the margins of society. We were trying to understand the world of the 21st century based on theories from the 19th century."
The immediate response by some in the anarchist movement was nothing short of despicable. "My brother was brought back to Spain in a Hercules, a military airplane, and his casket was covered with a Spanish flag.
All of a sudden I start getting criticized for not removing the Spanish flag. Someone even wrote an article titled "Journalists in Iraq: Imperialism's Soldiers.""
The article, which has since been removed, appeared in anarchist website La Haine. In a nutshell, it contended that journalists in Iraq, Jose included, were puppets of the US.
"My brother was not involved in the anarchist movement. To him, the Spanish flag was not a symbol of fascism, it was simply his country's flag," Canino explains.
This, coupled with the break-up of Sin Dios, prompted Canino to move on. "I began to meet councilmen who, for example, were participating in strikes against evictions, trying to make a change in a time when yet another financial crisis is causing people to be thrown out of their homes, when young people again must leave [Spain] to find work elsewhere, and I said to myself: 'something must be done. Maybe I can't be a sword, but I can be a shield to defend my society, my country, the people I love, such as my daughter, so she can have a future'."
The power to annoy those in power
In 2011, Canino joined the ranks of the Izquierda Unida party in Spain. Later on, in the European elections of 2014, he was chosen to represent the party in the European Parliament.
"When you're in the squat houses, your protests stay there, but in the European Parliament, it's incredible because you have the opportunity to hurt [those in power]. They hate hearing voices that are not in line with the discourse sold by the large media conglomerates," Canino says. "I was insulted in my very first intervention [in Parliament]. They –incorrectly– called me a 'Spanish Stalinist'," he adds with a laugh.
Although Canino is part of a minority, left-leaning group in a Parliament dominated by conservative, right wing-leaning groups, he still enjoys the power to give voice to the oppressed.
In one instance, he and his colleagues proposed investigating what had happened to the infrastructure that the European Union had financed for Palestine, but that had been destroyed by Israel. "Everyone voted against us. We only obtained 52 votes out of a total of 751."
But despite being an underdog, Canino aims to use his position to defend human rights based on international law, not on how those rights may be defined by the US and its political allies. "To the US, human rights are an issue in Venezuela, but not in Saudi Arabia and I just don't buy that," he says.
He illustrates this with the case of Venezuelan right-wing opposition leader Leopoldo Lopez, who in September was sentenced to 14 years in prison by a judge friendly to the Socialist government. He was accused of leading anti-government protests that turned deadly.
"Leopoldo Lopez was involved in the 2002 coup d'etat [against Hugo Chavez]. He was a governor and he assaulted the Cuban embassy in Caracas. Still, Chavez pardoned him in 2007. The media does not mention this," Canino says. "Later, when Nicolas Maduro wins the elections by a small margin, Lopez doesn't accept the legitimacy of the results. He called for violent protests to force Maduro to step down. These actions ended up causing 43 deaths. So now he has been jailed, but he is not a political prisoner, he is an imprisoned politician."
US-based non-governmental organization Human Rights Watch, siding with the opinion of the US government, has criticized the imprisonment of Lopez, calling it "a travesty of justice."
(In December's elections, the opposition won a majority of seats in the National Assembly, ending nearly 20 years of Socialist dominance. While Nicolas Maduro will stay in power, he does face the risk of being ousted by the new Assembly. The new Assembly has vowed to free Lopez.)
Meanwhile, Canino notes, two years ago, a woman in Saudi Arabia was accused of witchcraft and decapitated and nothing has been done. "So I must insist: 'Do human rights count for everyone?'"
In October, Canino was at it again. He came to New York City to demand that the United Nations follow up on its promise to assist in the decolonization of Western Sahara and to denounce the repression happening there against a populace that is fighting for independence from Morocco.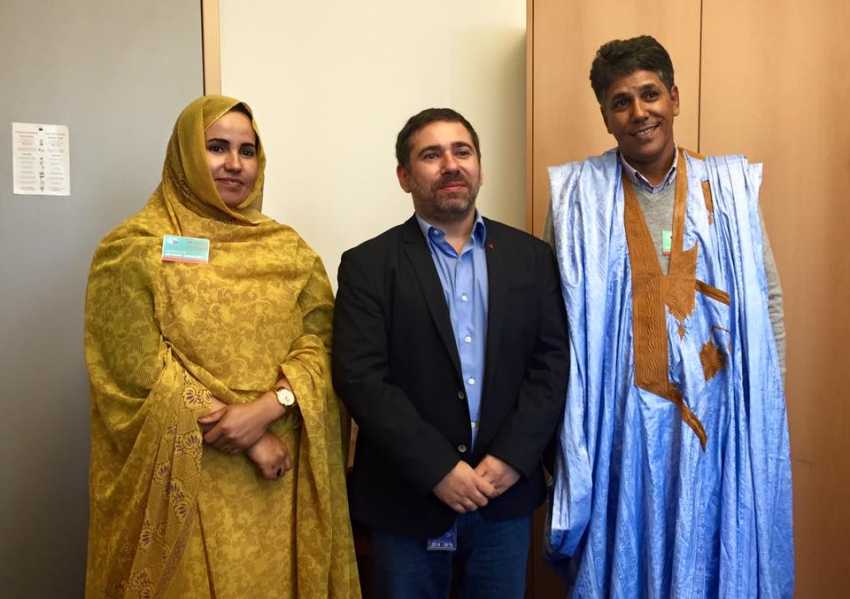 Canino meets with Sahrawi delegates Edih Noucha and Momma Dah, in the European Parliament.
Western Sahara, a former Spanish colony, is currently ruled by Morocco, its neighbor to the north. Although the United Nations have promised to help it achieve independence as part of its declaration of decolonization of 1960, Western Sahara is the last remaining territory yet to be decolonized in Africa.
"Nothing is ever said about what is happening in Western Sahara. Sahrawis are being tortured and killed for demanding independence. The repression they are suffering is terrible," Canino explains.
He also notes that Spain should be able to help in the decolonization process, but that it doesn't because it may be counterproductive to its commercial relations with Morocco. "Morocco is a very important trade partner of Spain. Also, when Spain and Morocco have a disagreement, Morocco tends to resort to using migratory pressure [allowing more people to migrate illegally to Spain]. It is a very tense relationship between the two countries. And the fact that Morocco is an ally of the US doesn't help either," he says.
You can't please everyone
There were some people who had negative, even insensitive reactions against Canino when they learned he was joining the European Parliament, just like they did after his brother's body arrived in a casket covered by the Spanish flag. One anarchist blogger wrote an entire post pointing out the contradictions between what Sin Dios said in its songs and what Canino's new job entails. The blogger, basically, cried that Canino had betrayed his trust and admiration by taking a cushy government job.
But others in the global anarchist/hardcore punk movement, rather than judge him, recognize that his new position does, in fact, allow him to be more effective in fighting economic and social injustices. It can't hurt to have an ally in power. After all, those who have known Canino for many years know he has been a steadfast defender of human rights. And that he still is.